SDH digital multiplexing
Digital multiplexing is SDH's method of byte mapping tributary signals to a higher signal rate, which permits economical extraction of a single tributary signal without the need to demultiplex the entire STM-1 payload. In addition, SDH provides overhead channels for use by OAM&P groups.
SDH digital multiplexing
The following figure illustrates the SDH technique of mapping tributary signals into the STM frames.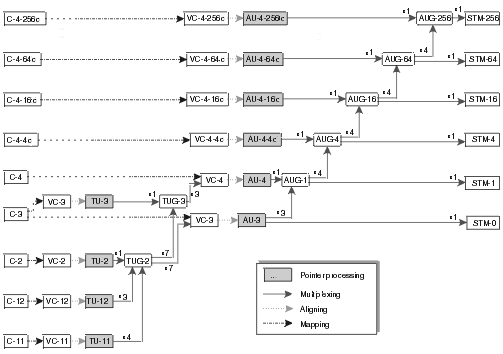 Transporting SDH payloads
Tributary signals are mapped into a digital signal called a virtual container (VC). The VC is a structure designed for the transport and switching of STM payloads. There are various sizes of VCs: VC-11, VC-12, VC-2, VC-3, VC-4, VC-4-4c, VC-4-16c, VC-4-64c and VC-4-256c.
Table
The following table shows the mapping possibilities of some digital signals into SDH payloads.
| Input tributary | Voice Channels | Rate | Mapped Into |
| --- | --- | --- | --- |
| 1.5 Mbit/s | 24 | 1.544 Mbit/s | VC-11 |
| 2 Mbit/s | 32 | 2.048 Mbit/s | VC-12 |
| 6 Mbit/s | 96 | 6.312 Mbit/s | VC-2 |
| 34 Mbit/s | 672 | 34.368 Mbit/s | VC-3 |
| 45 Mbit/s | 672 | 44.736 Mbit/s | VC-3 |
| 140 Mbit/s | 2016 | 139.264 Mbit/s | VC-4 |
Alcatel-Lucent – Proprietary
Use pursuant to applicable agreements